Mr. Spock Music | Leonard Nimoy (1931-2015)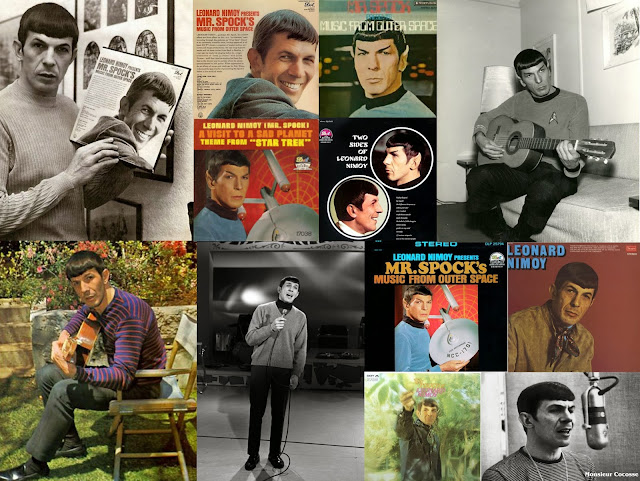 .
"I am an incurable romantic. I believe in hope, dreams and decency, love tenderness and kindness. I believe in mankind."
 Leonard Nimoy (1931-2015)
.
During and following Star Trek, Nimoy also released five albums of musical vocal recordings on Dot Records. On his first album Mr. Spock's Music from Outer Space, and half of his second album Two Sides of Leonard Nimoy, science fiction-themed songs are featured where Nimoy sings as Spock. On his final three albums, he sings popular folk songs of the era and cover versions of popular songs, such as "Proud Mary" and Johnny Cash's "I Walk the Line".


There are also several songs on the later albums that were written or co-written by Nimoy.
He described how his recording career got started:
 

Adam West (Batman) & Leonard Nimoy (Mr. Spock) played drums together         
Leonard Nimoy and Jimi Hendrix
.
"Charles Grean of Dot Records had arranged with the studio to do an album of space music based on music from Star Trek, and he has a teenage daughter who's a fan of the show and a fan of Mr. Spock. She said, 'Well, if you're going to do an album of music from Star Trek, then Mr. Spock should be on the album.' So Dot contacted me and asked me if I would be interested in either speaking or singing on the record. I said I was very interested in doing both. …That was the first album we did, which was called Mr. Spock's Music from Outer Space. It was very well received and successful enough that Dot then approached me and asked me to sign a long-term contract."