Instant Views [o.] Braille | Photos by Imogen Cunningham / Walter Sanders / David Seymour / Roy Pinney / Michael Mauney / Léon Ferrari
Henry Grant, Woman's hands reading a braille book; 1965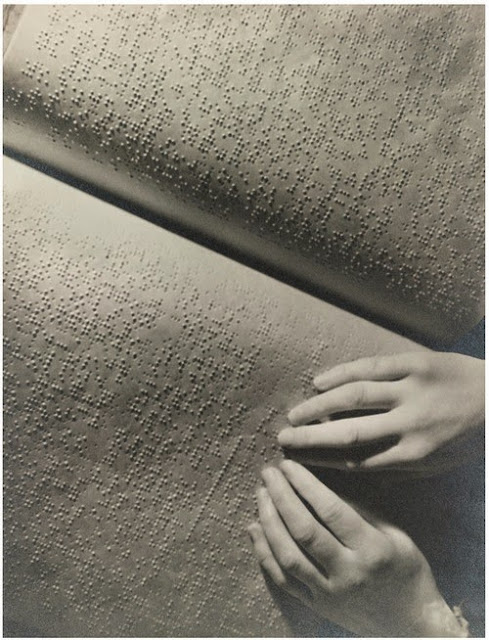 David Seymour, Blind Boy Reading With His Lips, 1948         Roy Pinney. Reading Braille, 1936
Imogen Cunningham, Hands Reading Braille, 1933
.


Braille was based on a tactile military code called night writing, developed by Charles Barbier
in response to Napoleon's demand for a means for soldiers to communicate silently at night and
without light. Braille is named after its creator, Frenchman Louis Braille, who lost his eyesight
due to a childhood accident. In 1824, at the age of 15, Braille developed his code for the French
alphabet as an improvement on night writing.
Walter Sanders, A second grade girl examining a braille, 1943           
Blind boy reading Braille
Léon Ferrari, Union Libre, 2004 (Poem by André Breton embossed in Braille on a photograph)
Léon Ferrari, Union Libre, 2004 (Poem by André Breton embossed in Braille on a photograph)
. >