Flick Review < Under the Volcano | John Huston, 1984
This film was made and released about 37 years afters its source semi-autobiographical novel by
of the novel Under the Volcano. However, John Huston said that he read a biography about Malcolm
 Lowry to which he read some names of people who were friends with him and Malcolm Lowry.
Geoffrey Firmin:
He on whose heart the dust of Mexico has lain, will find no peace in any other land.
Geoffrey Firmin:
Hell is my natural habitat.
Geoffrey Firmin:
There is nothing more real than magic.
"I'm dying without you. Come back to me, Yvonne"
Geoffrey Firmin: No si puede vivir sin amar.
Yvonne Firmin: What?
Geoffrey Firmin: One cannot live without love.
Geoffrey Firmin:
I mustn't judge others – as I judge myself.
Geoffrey Firmin:
How, unless you drink as I do, can you hope to understand the beauty of an old
indian woman playing dominoes with a chicken?
Under the Volcano (1984)
Director: John Huston
Writers: Malcolm Lowry (novel), Guy Gallo (screenplay)
Cinematography: Gabriel Figueroa
Stars: Albert Finney, Jacqueline Bisset, Anthony Andrews
.
On lead actor Albert Finney in this "Under the Volcano" film, director John Huston said:
"I think it's the finest performance I have ever witnessed, let alone directed".
Film Poster for John Huston's Under The Volcano (1984)
.

Luis Bunuel had tried to get this set up around 1964-1965
with Laurence Olivier and Jeanne Moreau.
.
"On several occasions, both American and European producers have suggested that I tackle
a film version of Malcolm Lowry's Under the Volcano, a novel set in Cuernavaca.  I've read
the book many times but cannot come up with a solution for the cinema. If you confine yourself
to the action, it's hopelessly banal,  because everything important takes place within the main
character, and how can inner conflicts be translated into effective images on a screen?
To date, I've read eight different screenplays, but not one of them seems convincing. Other directors
besides myself have been tempted by the beauty of the story, but so far no one has made the movie."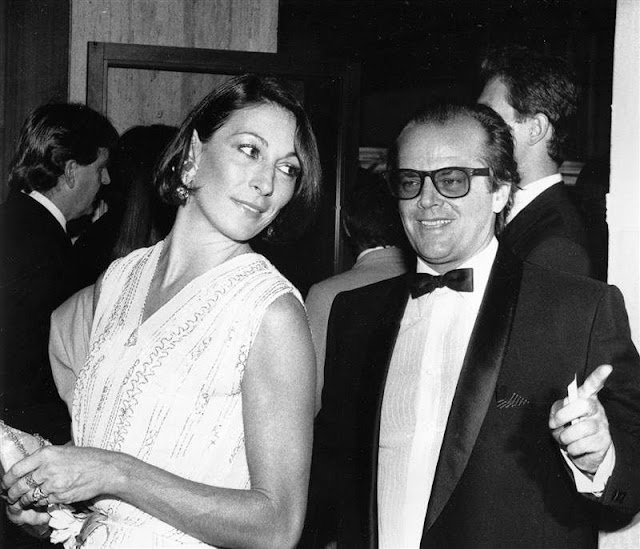 Jack Nicholson joined Anjelica Huston at the premiere of her father
John Huston's film "Under the Volcano" in 1984
.
* Jack Nicholson was sometimes on the set while Under the Volcano (1984) was being filmed.
Also: