Fin de Copenhague (Goodbye to Copenhagen) | Asger Jorn & Guy Debord, 1957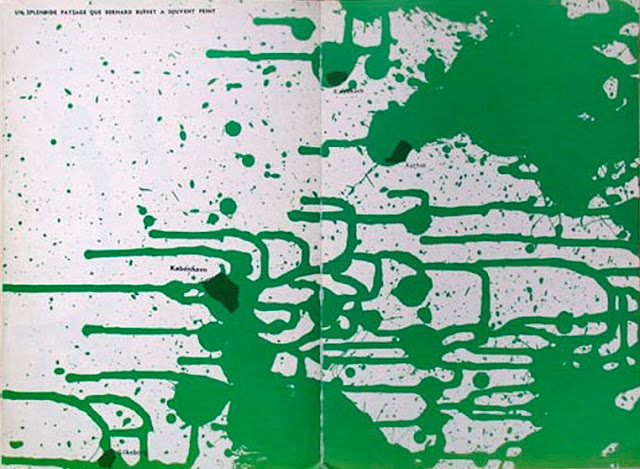 "What do you want? Better and cheaper food? Lots of new clothes? A dream home with all the
latest comforts and labour saving devices? A new car . . . a motor launch . . . a light aircraft
of your own? Whatever you want, it's coming your way – plus greater leisure for enjoying it
all. With electronics, automation and nuclear energy, we are entering on the new Industrial
Revolution which will supply our every need, easily . . . quickly . . . cheaply . . . abundantly."
Fin de Copenhague (Goodbye to Copenhagen)  | Asger Jorn & Guy Debord, 1957
.
The book ends with the text:
"Hurry! Hurry! Hurry! Tell us in not more than 250 words 
why your girl is the sweetest girl in town."
…
Fin de Copenhague is the product of a collaboration between Guy Debord and Asger Jorn immediately
 preceding the foundation of the Situationist International. "The book was printed within 24 hours as
 an artistic experiment. Having just arrived in Copenhagen, Jorn and Debord rushed into a newsagents,
 stole a huge amount of magazines and newspapers, and spent a drunken afternoon collaging elements
 together. The next day they arrived at the printer with 32 collages, which were transferred to
 lithographic plates. Jorn then sat at the top of a ladder over the zinc plates, dropping cup after
cup of Indian ink onto them. The plates were then etched and printed over the black texts and
images." (Bruun Rasmussen). The book was produced by legendary printer of avant-garde
movements Permild & Rosengreen, whom Jorn and other COBRA artists had trusted with
several of their works.
.
Also: